Splash Page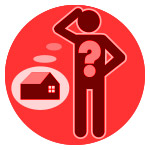 1-"I looked at my roof & didn't see any problems"
Not all wind damage is visible form the ground. The roofing system needs to be inspected by someone with experience, training and the knowledge about tile roof systems — they can identify the factors involved with wind damage.
2- "My Insurance company will raise my rates/premiums"
Insurance companies can't raise an individual property owner's rates due to an "Act of God" claim. This claim is a "No Fault" claim because it couldn't be prevented. If you file a claim, it will not cause your rates to go up!
3- "None of my tiles are missing or broken"
Wind damage is the most common culprit of uplifted tiles. High winds from the Hurricane can often lift theses tiles and compromise the tile roof and underlayment system. However an uplifted tile may not physically cause roof leaks for many years after a storm making it important to inspect the roof system for more than just missing or broken tiles.
4- "My roof is new so its covered under a Warranty"
Hurricane Wind damage is specifically excluded from the manufacturer's and contractor's warranties. In fact, a new roof is just as likely to have sustained uplift from wind damage as an old roof system.
5- "My insurance company said I just need a repair"
Many homeowners have been intentionally misled by their insurance companies. While insurance adjusters are claiming you just need a repairs and that the repairs are less than your deductible and this is not true! This tactic from the insurance companies are saving them millions each and every year.
If you have already had repairs to your roof,  it's not to late, Many of our customer in your area have recovered full replacement cost benefits from there insurance company even after the repairs have been completed on there roof. Not all contractors have the experience working with the insurance companies to fight for you to make sure your home is restored to the way it was before the storm hit! Make sure your contractor knows all the updated codes and regulations for your area or they will not be able to provide you with the best service.